Last Updated on September 27, 2016
After the new anniversary update, Windows 10 improved quite a lot. Almost everything was sort-of improved, including the task-bar. One of the major changes to the task-bar was the adjustment of the clock and action center icon positions. Both were moved a bit annoying some users, including me.
Of course, Microsoft followed their usual Windows 10 policy of making decisions for the users. And, because of that, there is no option to undo these unwelcome changes for the users. To our luck, there is an app by the Github user named opusman called the ClockPositionRighteousifier which can fix our woes related to the clock position after the update.
The app is just a single exe file which can be used to set the clock to its native position like in the previous versions of Windows. You can see in the screenshot below how this looks like on my PC. There are no configurable ini files or other hogwash. All you have to do is open the app once and forget about it.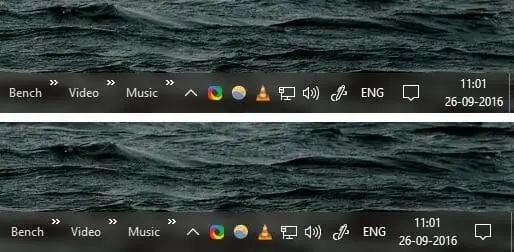 Steps to move the task-bar clock to the right in Windows 10 anniversary update
Go to opusman's Github repository for ClockPositionRighteousifier.
In that page, click on the big green button saying "Clone or download". In the drop-down menu, click on Download ZIP option. This will download the ClockPositionRighteousifier-master.zip file on your PC.
Open the zip file using WinRAR or 7Zip and go to ClockPositionRighteousifier-master > binaries > CPR_x64 /CPR_x86 (depending upon whether you have a 32-bit or 64-bit PC).
Extract these two files to the Windows startup folder. To open the startup folder, press Windows key + r and type shell:startup. Press enter. It will look something like C:\Users\<username>\AppData\Roaming\Microsoft\Windows\Start Menu\Programs\Startup.
Once extracted, right-click on the ClockPositionRighteousifier.exe and go to Properties. In the General tab, check the Unblock checkmark to ensure that UAC won't ask you repeatedly while opening the file. Do this for the cprdll.dll too.
Restart your PC.
Restore the original clock position
To undo the changes, run the ClockPositionRighteousifier.exe again. Running it more than once will restore the clock to its original position. To make sure that the app won't run again, also remove it from the startup folder by deleting both the exe and DLL files.