Last Updated on November 5, 2019
Verifying Game Ownership Failed – Okay after the miserable decrypting of the game and wasting a lot of time. I started getting this "Verifying Game Ownership Failed" error. I bought the game, so I do own it. This was very irritating and I tried looking around for a fix for this.
Let's find out if there's a fix or not.
Fix Verifying Game Ownership Failed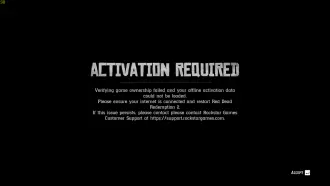 I tried doing a few things to fix this issue, it's obviously related to licensing and Rockstar Games launcher. After doing all this I was able to launch my game without any problem.
Click here if you are facing lagging issues in RDR2
Start with logging in and out of the Rockstar Games launcher, this seems to have fixed the issue for some users.
Verify Game Files
Whenever any error pops out for a game, the first thing you should do is verify the game files using the game launcher. Almost every launcher nowadays has an option to verify and download files.
Delete Social Club Files and Reinstall Launcher
Immediate Fix: This worked for me. Go to Rockstart Launcher Settings > Account Information > Delete Local Profile.
Head to the official website of Social Club to verify if the site is working or not
Redownload Social Club/Launcher and install it from the official download link
Try logging in and launching the game, if the issue is still there, continue reading
Go to the Social Club Installation Folder
C:/Users/YourUsername/Documents/Rockstar Games/Red Dead Redemption 2/Profiles/Profilename/pc_settings.bin
Now delete the pc_settings.bin file.
Go to Rockstar launcher settings > Account Information > Delete Local Profile
Open " C:/Users/YourUsername/Documents/" and delete "Social Club" Folder.
This will remove any conflicting files or installations.
---
These are the things that I did to fix my issue. Hopefully, it works out for you too.
The issues can also be related to server load. If too many people are trying to access the game at the same time, problems are bound to happen. I would advise you to wait or contact Rockstar Games if the issue doesn't get fixed.