Last Updated on May 17, 2022
GM Nightfall Season of the Risen – Destiny 2 has had a few big updates and changes since its release, but the Grandmaster Nightfall is one of the most exciting additions. This weekly event pits players against powerful bosses in an attempt to earn rewards that can help them breeze through the game. There are many different ways to approach this mode. Whether you're a high-level player looking for a challenge or a beginner just trying to earn some valuable loot, there's something for everyone in Grandmaster Nightfall.
Note: GM Nightfalls return this weekly reset (April 12)
Grandmaster Nightfalls are the end-game activity in Destiny 2, arguably more challenging than the Raids. Typically nightfalls are forgiving; given you have the right loadout, you can breeze through any content in the game. But Grandmaster Nightfalls require you to have the best loadout, you can't complete them without having the right synergy, match-game weapons, and character builds. Also, not to forget, you get the best loot available in Destiny 2 in GM nightfalls.
---
Grandmaster Nightfall Requirements in Season of the Risen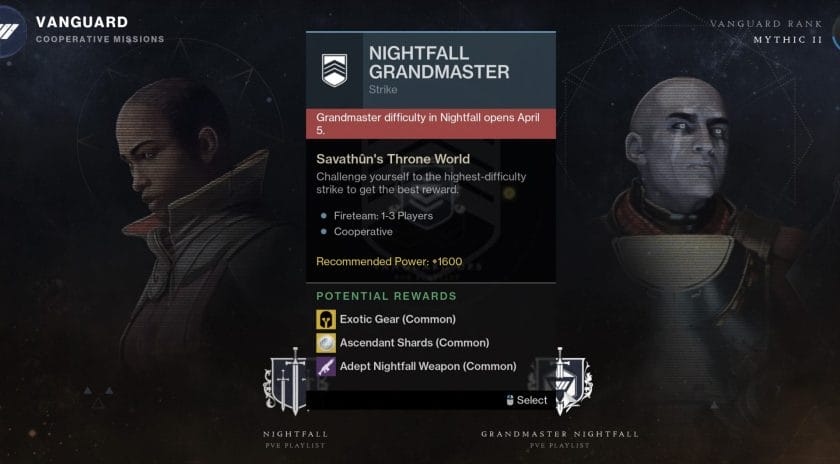 To be able to access GM nightfalls during the Season of the Risen, players have to hit Power level 1575 at least. The hard cap in Season of the Risen is 1560, so you need to grind a lot of pinnacle farming to reach there.
GM Nightfall Modifiers
Acute Arc Burn: +25% Arc damage dealt and +50% Arc damage received.
GM nightfalls have the strongest modifiers like Match-Game, Champions, Overlords, basically anything that's hard to take down. On top of that, you have limited revives.
---
Grandmaster Nightfall Schedule 2022 & Rewards This Week
GM nightfalls return on April 5; the information will be added here once the reset hits.
Grandmaster Nightfall for this week is The Scarlet Keep and the reward is Palindrome. You can read the best loadout for The Scarlet Keep for tips on playing this GM Nightfall.
Bug: Seems like Silicon Neuroma is dropping for some. This is a bug, confirmed by Bungie dev dmg04. Please don't waste time on GM NF until they fix this.
| Date | Strike Name | Rewards |
| --- | --- | --- |
| April 5 | The Scarlet Keep | Palindrome and PLUG ONE.1 |
| April 12 | The Arms Dealer | Duty Bound |
| April 19 | The Glassway | Silicon Neuroma |
| April 26 | Lightblade | Comedian Shotgun |
| May 3 | Fallen S.A.B.E.R. | Hothead Rocket Launcher |
| May 10 | Birthplace of the Vile | Duty Bound |
| May 17 | The Scarlet Keep | Palindrome and PLUG ONE.1 |
"*" = will be updated on reset day!
Rewards This Week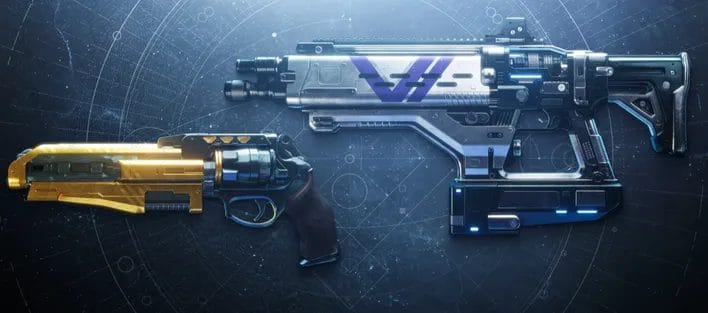 Bungie has confirmed that there will be 10 weapons in the rotation. Adept weapons are rewarded upon completion, that's the best part.
The most sought after PvP Palindrome Hand Cannon (Adept) drops from GM nightfalls. This is certainly a reason to rejoice for the PvP tryhards. Adept weapons also have higher stats and access to Adept Mods.
Tips for Completion
There's no secret to completing Grand Master Nightfalls efficiently. You need the right builds, synergy and teammates. You have to carry the right weapons that can take down overlords, and champions. There's a match game modifier so you also need void, solar, and Arc weapons to break enemy shields.
Taking cover from enemies is another essential thing because you will get one shot by many enemies in GM Nightfalls.
---
Destiny 2 Grandmaster Nightfalls: Loadout Recommendations
We are working on a build guide for the GM Nightfalls. However, here are the best weapons that you can use.
Primary Weapons
Long Range weapons that can take down enemies from range. It would be best if you took a Scout or Bow to take care of the champions. Scouts are the only anti-barrier weapon this Season.
There are a lot of great bows to choose from; my favourite is Ticu's Divination. You can take Trinity Ghoul or the new bow this Season.
Someone from your team should also take a Pulse Rifle to Stun Unstoppable Champions. There are a lot of great weapons to choose from; Piece of Mind, Syncopation-53, or Cold Denial.
Special Weapons
Damage Dealing weapons like Fusion Rifles or Grenade Launchers is something we recommend. You can use a grenade launcher that rolls with the Blinding Grenades perk; this can come in clutch during fights. The blinding effect blinds the enemies for a few seconds.
Eriana's Vow is another excellent option, the intrinsic perk Barrier Champions. This will be a great option during the Season of the Risen.
Any Sniper with Firing-Line can be a good option, but you risk getting wiped out if all of you stick together.
Heavy Weapons
One Thousand Voices
Gjallarhorn Rocket Launcher
Linear Fusion Rifles like Reed's Regret.
Swords can also be used, but that should be your last option. You risk getting one shot by enemies. But a guardian has their choices.
---
FAQ
Is there matchmaking in grandmaster nightfall?
No, there's no matchmaking in GM Nightfall.
What is the Time Limit in Grand Master Nightfall?
There's a 45-minute time limit in GM Nightfalls. Once you hit the timer, you won't be able to revive your teammates and will be returned to the Orbit once wiped.
That's all for the Grandmaster Nightfall this week. I am excited to get my hands on the Palindrome Hand Cannon finally. Are you excited?